...breathtaking elan and finess -Times Herald Record
As always, love: of chamber music, of our musical friends, and our Catskill community, is the thing that drives and sustains us, and that makes everything possible. We can't wait to share that love with you all once again. -Andrew Waggoner & Caroline Stinson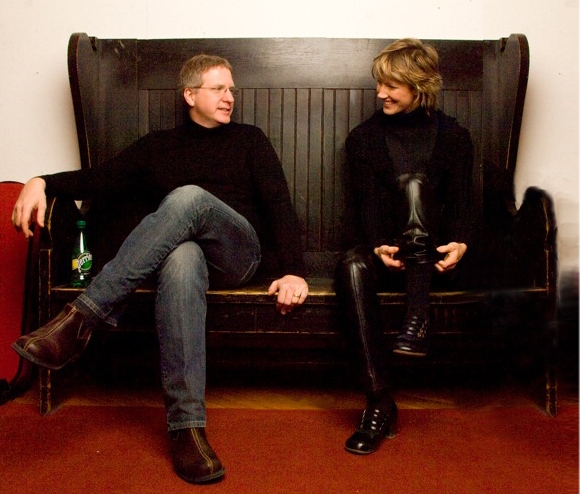 Artistic Directors' Message
Weekend of Chamber Music's 27th year!
2020: It's a big year. Hindsight, of course, is 20/20. This year we're looking in the other direction. Artists have always been reliable prognosticators, often hinting at what's to come long before anyone else has caught on. Defining this year's programming are older works that showed us where we were headed, and new ones that stretch their light out into the mid-21st century and beyond: the string Quartet Op. 18, no. 6 of Beethoven; the Sonata for Flute, Viola & Harp of Debussy; the Quartettsatz of Schubert; visionary lullabies of Fauré and Ravel; trio sonatas by baroque master Joseph Bodin de Boismortier; new works for string quartet by young composers from the U.S. and Turkey, Shelley Washington and Füsun Köksal; and works for string quartet, piano trio, and more by 2020 Composer in Residence Kurt Rohde. Known for music that is sensual, rhythmically dizzying and mind-bendingly imaginative, Mr. Rohde will be on hand for several events to work with festival artists and to meet and engage with the audience. Wherever we end up, we're glad you'll get there with us!
Love,
Andy & Carrie
Our Mission
We engage the public of the Catskills and the Upper Delaware region directly by bringing transformative performances of, and discussion around, chamber music to a wide variety of venues across the region. With events each season in a converted barn (our main concert home); a distillery; a country inn; a farmer's market; a church lawn; a repurposed school; and an old mill-turned-gallery, we bring our work straight to the people wherever they are.  Our commitment to what we see as an essential mix of standard repertoire, new music, encounters with living composers, and improvisation, ensures that our audiences come to see chamber music as a vital, contemporary, evolving art form, one that speaks directly to them, of their lives and their shared humanity.
GENERAL INFORMATION
Weekend of Chamber Music, Inc.
PO Box 147
Jeffersonville, N.Y. 12748
INFORMATION
(917) 664-5185
Copyright © 2017 Weekend of Chamber Music, Inc. - Site designed by Bōwman Media