As always, love: of chamber music, of our musical friends, and our Catskill community, is the thing that drives and sustains us, and that makes everything possible. We can't wait to share that love with you all once again. -Andrew Waggoner & Caroline Stinson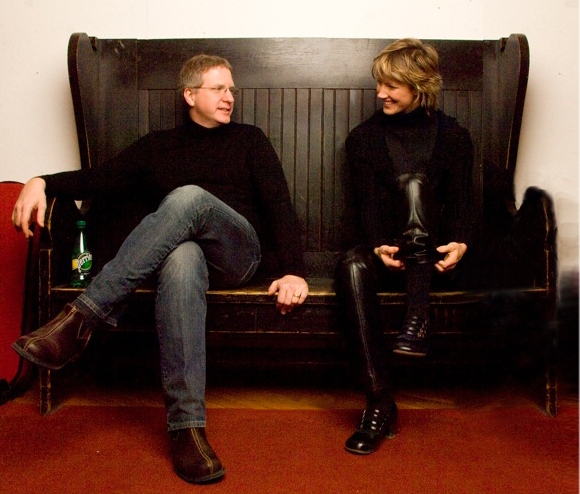 Artistic Directors' Message
WCM's 2017 season, The Musical Soul: Composers as Performers as Composers has taken shape and is now anxiously awaiting the arrival of the summer, and all of you, to be born. A plunge into music's spiritual ground-of-being, the programs are defined by expressions of soul, both sacred and secular, and by the most basic, most expressively direct actions available to us as musicians: making stuff up, either on the spot or over long hours with pencil, paper, and computer. With music by performers who compose and composers who perform, or who shatter both categories entirely (Beethoven and Bach come to mind), we'll explore all that is most emotionally, spiritually direct in the shared joy of chamber music. At the heart of this three-week odyssey will be the music – and performance – of our resident composer, Jesse Benjamin Jones. Known for intensely imaginative works that draw from both folk and sacred musics, often channeling an experience of the ecstatic, Jesse is one of the foremost younger composers on the scene today and, as luck would have it, also a brilliant performer on the mandolin. One of the high points of the festival will be the premiere of a new work for mandolin and bowed strings that he is composing especially for the festival. Anchoring this flow of time and musical style, one that includes music of Bach, Biber, Messiaen, Scriabin, Stravinsky and Waggoner, will be two major, essential masterworks of Brahms and Beethoven: the Piano Quartet in A Major, op. 26 of Brahms; and Beethoven's towering, transformative Trio in Bb Major, op. 97, the Archduke. All of this plus improvisation, and a sing-along to shape-note music from The Sacred Harp. Joining us will be old friends and new, with violinists Michael Jinsoo Lim and Nurit Pacht; violist Melia Watras; and pianists Sarah Ho and grammy-winner Gloria Cheng. As always, love: of chamber music, of our musical friends, and our Catskill community, is the thing that drives and sustains us, and that makes everything possible. We can't wait to share that love with you all once again.
Thanks so much, and see you all soon!
Andy & Carrie
Our Mission
We engage the public of the Catskills and the Upper Delaware region directly by bringing transformative performances of, and discussion around, chamber music to a wide variety of venues across the region. With events each season in a converted barn (our main concert home); a distillery; a country inn; a farmer's market; a church lawn; a repurposed school; and an old mill-turned-gallery, we bring our work straight to the people wherever they are.  Our commitment to what we see as an essential mix of standard repertoire, new music, encounters with living composers, and improvisation, ensures that our audiences come to see chamber music as a vital, contemporary, evolving art form, one that speaks directly to them, of their lives and their shared humanity.
...breathtaking elan and finess -Times Herald Record
GENERAL INFORMATION
Weekend of Chamber Music, Inc.
330 Haven Avenue, 2N
New York, N.Y. 10033
INFORMATION
(646) 861-0378
Copyright © 2017 Weekend of Chamber Music, Inc. - Site designed by Bōwman Media