Happy New Year from all of us WCM!
Previous Concerts this Season
NOVEMBER
Watermusic
November 15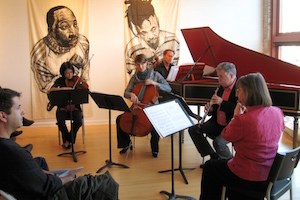 Joining the Catskill Art Society's (CAS) River & Biota exhibition in its final weekend, WCM presents WaterMusic, a concert at 3 pm Saturday Nov. 15 at the CAS gallery in Livingston Manor. Video projection of works by Sharon Molloy and music is performed by flutist Judith Pearce; violinists Sunghae Anna Lim and Andrew Waggoner; violist Luke Fleming and cellist Robert Burkhart. Music includes Handel selections from Handel's Water Music; Telemann's Wassermusik (Hamburger Ebb and Fluth); Vocalise from Voice of the Whale by George Crumb; Deep River (Trad.) arr. by Waggoner; Finnish composer Kajia Saariaho's Cloud Trio, & Andrew Waggoner's Clouds. Open to the public, admission donation is $20; free for students 18 and under. For more information, click here.
APRIL / MAY

Carrie's Teas! Private afternoon parties with music, mingling and noshing, hosted by WCM fans for their friends. Free and informal, these lunch/talk/play dates designed to introduce WCM to new people, will serve up a sample of our world-class music and chat up all the cool things coming up at WCM this season. Artistic Co-Director cellist Caroline Stinson and WCM musicians present these events. If you would like to sponsor one like this in your home for people you know, email us here.
JUNE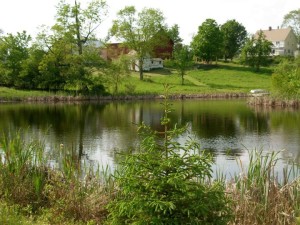 Music in the Barn returns June 21 at a private country home in Bethel. WCM'S early summer benefit serves up gourmet dining al fresco and live chamber music in a charming renovated barn. The evening begins at 4pm with a glass of wine, a little mingling on the garden terrace, and a feast of solos, duos and trios by Bach, Bartok, Berio, Boismortier (hmmm, lots of B's!), Ran and Stravinsky, plus an improv or two to cleanse the palate. Featured WCM artists are Judith Pearce, flute; Pavel Vinnitsky, clarinet; Nurit Pacht & Andrew Waggoner violins, and they will join the guests for supper after the program. Our patron host and wonderful hostess chef promise a second feast of delectable homemade, buffet supper choices, including salmon mousse, quiches, a variety of hearty breads, ratatouille, tempting salads ranging from the garden greens to rice to beans to pasta selections, and an array of authentic German desserts like apple tart, crumble cake, Austrian tart and much more! Reservations are required for this always fabulous event with great music, delicious food and fun camaraderie, and are $75 per person. To make your reservations now with credit card or PayPal, please CLICK HERE. We look forward to seeing you and to kicking off our 21st Summer Festival in the Catskills!
JULY
JULY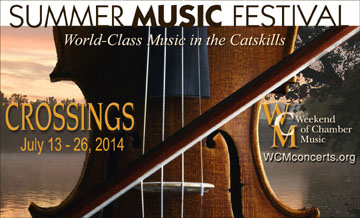 Andrew Waggoner & Caroline Stinson, Artistic Co–Directors
SPECIAL PRE-FESTIVAL KICKOFF EVENT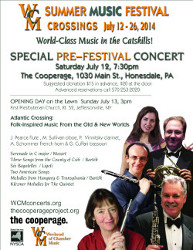 Saturday, July 12, 7:30pm at The Cooperage, 1030 Main St., Honesdale, PA
Click the thumbnail to download the poster.
OPENING DAY ON THE LAWN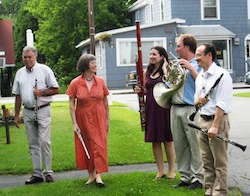 Sunday, July 13, 3pm at First Presbyterian Church, Jeffersonville, NY
Atlantic Crossing – Folk-Inspired Music From the Old and New Worlds
Judith Pearce, flute; Matt Sullivan, oboe; Pavel Vinnitsky, clarinet; Gina Cuffari, bassoon; Adam Schommer, French horn
MusicTalks! An Evening with Shulamit Ran

Thursday, July 17, 7:30pm
Catskill Distilling Company, Bethel, NY
Performance & discussion with Audience Q&A
Andrew Waggoner, moderator
Melia Watras, viola; Caroline Stinson, cello; Festival Musicians
Gold Sponsors: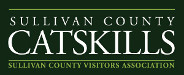 Special Event! Donors' Rehearsal
Friday, July 18
Jeffersonville, NY
By invitation only & in great appreciation for our Sponsor Level or higher Donors.
Festival musicians in an intimate, interactive, & private rehearsal for Saturday's concert.
Tea, coffee & light refreshments are served.
Soul Crossings – Works that Sound the Depth of Human Feeling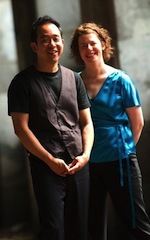 Saturday, July 19, 7/8pm
Eddie Adams Barn, Jeffersonville, NY
Pre-Concert Talk 7pm; Concert 8pm
Michael Jinsoo Lim, Sunghae Anna Lim, Andrew Waggoner violins
Melia Watras and Tawnya Popoff, violas; Julia Lichten and Caroline Stinson, cellos
Tannis Gibson, piano
Market Music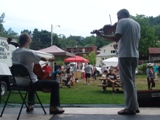 Sunday, July 20, 11am
Farmers' Market, Callicoon, NY
String Crossings – Improv & then some!
Festival Musicians bring the Barn to the Market with free samples of some WCM Summer Festival sounds.
MusicTalks! Finding Common Ground – Music, Dance & Improvisation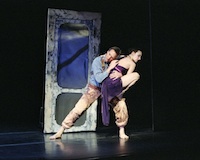 Thursday, July 24th, 2014 at 7:30pm
North Branch Inn, North Branch, NY
Donlin Foreman & Jennifer Emerson dancers and choreographers of On Common Ground;
Andrew Waggoner, violin & Caroline Stinson, cello
Refreshments will be for sale.
Gold Sponsors:

At Work & Play Behind the Notes
Friday, July 25, 7pm
Eddie Adams Barn, Jeffersonville, NY
Open rehearsal of the Grand Finale concert.
Admission is free & open to the public. Donations are appreciated.
Gala Grand Finale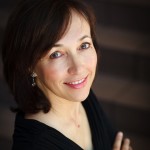 Saturday, July 26, 7/8pm
Eddie Adams Barn, Jeffersonville, NY
Pre-Concert Talk 7pm; Concert 8pm.
Crossings Remembered – Works that Cross Between Nostalgia, Illusion & Memory
Judith Pearce, flute; Pavel Vinnitsky, clarinet; Nurit Pacht, violin;
Caroline Stinson, cello; Tannis Gibson, piano & Andrew Waggoner, composer