Daniel Light, PhD, Board Chair - Jersey City, NJ and Callicoon, NY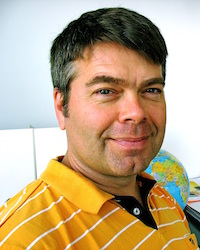 Daniel Light, a Senior Scientist at EDC's Center for Children and Technology, has a background in qualitative and quantitative sociological research methodologies. His work focuses on the social issues of school reform and technology integration across school systems both in the US and internationally. Dr. Light did his doctoral research on the role of technology integration in high school reform in an urban school district. He is currently project manager for the evaluation of an international professional development program supporting the introduction of technology and project-based approaches into teaching and learning.
He is particularly involved in educational technologies in Latin America. He has done project work throughout the region with longer involvement in projects based in Costa Rica, Argentina, Brazil, Guatemala, and Peru. Dr. Light has worked with technology integration projects in Peru and Guatemala and was the co-director of a study on seven successful SchoolNets in Latin America. His international experience includes research on technology projects in Latin America for a World Bank policy paper, the evaluation of a collaborative project between Latin American and North American public school teachers.
Dr. Light has worked with technology integration projects throughout the United States, working on projects including the evaluation of youth development and school-to-work programs, the design of technology-related needs assessment instruments, impact studies of technology use with students, and the role of guidance counseling in helping students plan for the future. He received a Ph.D. in sociology from the New School for Social Research. He was an invited researcher for a year at the Universidad Autónoma de Madrid, Spain. Daniel also received an M.A. in international affairs from Carleton University, Canada, an M.A. in sociology and historical studies also from the New School for Social Research.
Andrew Waggoner, BM/MFA/DMA, Composer, Artistic Co-Director & President - Syracuse and New York, NY
Born in New Orleans, Andrew Waggoner studied at the New Orleans Center for Creative Arts, the Eastman School of Music and Cornell University. Among the award-winning composer's accolades are the Lee Ettelson Composer's Award and a Guggenheim Fellowship in 2005, and the 2007 Roger Sessions Prize by the Liguria Study Center in Bogliasco, Italy, where he was in residence during the spring of 2008. His numerous commissions and performances include the Saint Louis Symphony Orchestra, the Los Angeles Philharmonic, the Denver Symphony, the Syracuse Symphony, the Winnipeg Symphony, the Academy of St. Martin's-in-the-Fields, and the Cassatt, Corigliano, Miro, and Degas Quartets. Two CD's on CRI are available on the New World label, and his music can be heard on the Vienna Modern Masters Music From Six Continents series.
He is Composer-in-Residence at Syracuse University, and recently formed Open End with his wife, cellist Caroline Stinson.
Richard M. Cherry, Treasurer - Westchester & Lake Huntington, NY
Richard M. Cherry, the founder and President of Community Environmental Center, Inc. (CEC). He has overseen the expansion of the firm from a Weatherization Program contractor to a firm with in-depth expertise in energy analysis, new technologies and consulting for green building design. Prior to founding CEC, Mr. Cherry was Executive Vice President and General Counsel and President of Housing Subsidiary Companies at the New York Urban Coalition. In 2007 Mr. Cherry received The Purpose Prize, a national award that recognizes leaders who are ushering in a new age of social progress.
Robert Dadras, R.A., Architect, Member-at-Large - Liberty and New York, NY
A Main Street development expert, Robert Dadras holds a Bachelor of Architecture from NYIT, and is a registered architect in the State of New York. He is an Adjunct Associate Professor of Architecture at New York Institute of Technology. He is founding partner of Dadras Architects, a Liberty, NY- based architectural firm with projects throughout New York State. The Sullivan County Planning Department, with Mr. Dadras, received the 2004 New York State Historic Preservation Office's "Preservation Award", the highest award bestowed to a county government to date.
Actively involved in his local business community, Dadras served for 12 years on the Board of the Liberty Chamber of Commerce, including two as its President. During his tenure, he initiated many successful new programs and projects, including: Business Symposiums; Business Expos; Music Pavilion; NYS UDC Main Street Facade Grant program; and a successful Farmer's Market. He was instrumental in founding the Liberty Museum and Arts Center, an economic development project, to help revitalize the Village of Liberty. In 1996, all of these efforts lead Liberty to receive the very competitive New York Conference of Mayors (NYCOM) Main Street Award.
In 1997 he was one of two economic development consultants hired by Sullivan County to develop a 42-point Economic Development Plan, which was unveiled in September, 1997. This plan received over $15.5 million in funding for Sullivan County's economic development programs. In 1997, he was appointed Main Street Coordinator for the Main Street Redevelopment Center of Sullivan County and empowered to study and revitalize 31 Main Street communities throughout the County. Robert Dadras received the 1998 Distinguished Achievement Award from the Sullivan County Chamber of Commerce, in recognition of his many years of dedicated service to the business and cultural community.
He has served as the architectural consultant to the Catskill Center's Main Street Program: for the counties of Delaware, Greene, Schoharie, and Ulster; working in over 20 communities to assist in the preparation of downtown comprehensive strategies and building façade projects.
He also served as the architectural consultant to the City of Yonkers' Commercial Revitalization Program, working in two different communities to assist in the preparation of downtown streetscape plans and building façade projects. Dadras also served as the architectural consultant to the Greene County's Main Street Program: working in over 15 communities to assist in the preparation of building façade projects.
Judith Pearce, Flutist, WCM Founder & Member-at-Large - Lake Huntington and Brooklyn, NY
Judith Pearce founded Weekend of Chamber Music in 1994 and has served as the Board Chair until 2014. She was also WCM's artistic director until Dec., 2012, when new Artistic Co-Directors were named. Ms. Pearce is chamber musician of distinction with a career that spans Europe and America. Her work encompasses collaborations with some of this era's most notable musicians, from Simon Rattle and Peter Maxwell Davies, to Kathleen Battle and Cleo Laine.
She has played in many great concert halls, including the Lincoln and Kennedy Centers, London's Festival Hall, La Scala Milan, Berlin's Philharmonie, the Beethovenhalle, Bonn, and the Sydney Opera House. Educated in London and Paris, she has performed with the Nash Ensemble, Fires of London, London Sinfonietta, the Monticello Trio & the Chamber Music Society of Lincoln Center, to name a few. Her discography lists the RCA, Deutsche Grammophon, EMI and ASV labels, & includes a recording of Nicholas Maw's Flute Quartet, nominated for a Gramophone Award.
A New York resident since 1985, Ms. Pearce was also a member of the Richardson Chamber Players of Princeton University, where she taught flute until her retirement in 2010.
Carole Brzozowski - Syracuse, NY
Paul Gridley - New York, NY
Stacy Margolis - Brooklyn, NY
Caroline Stinson, Cellist, Acting Secretary & Fiscal Officer - New York, NY