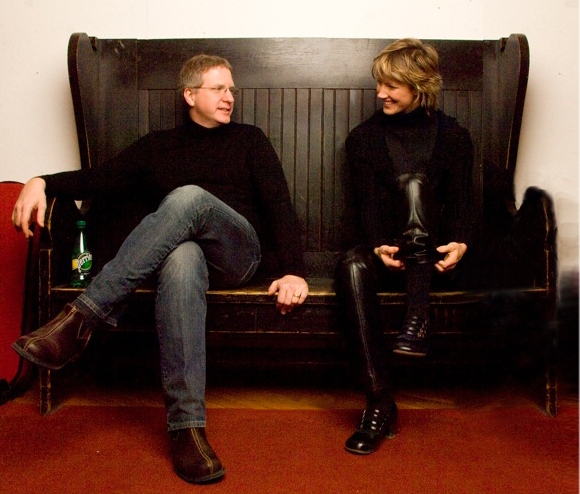 Artistic Directors' Message
This year's festival, Free Variations, explores variation as form; as creative process; as life itself. The storytelling current that runs through all of this season's music, the variation idea takes us through cycles of evolving repetition, widening gyres of feeling and imagination that mirror our own life passages. Coming aboard for this odyssey will be Pulitzer Prize-winning composer Joan Tower. Known internationally for music that is wildly colorful and rhythmically propulsive, Ms. Tower is one of the most important and widely-performed composers of her generation. Joan's music will form the core around which the rest of the program takes shape, with works that are constantly transforming, running through the ancient and archetypal process of variation, in conversation with music of Bach, Haydn, Marin Marais, Schumann, Steve Reich, and featuring the Clarinet Quintet of Mozart, one of the greatest and most-beloved works in the classical tradition. As always we'll welcome old friends and new, with violinists Nurit Pacht, Mari Sato and Susan Waterbury; violists Tawnya Popoff and Lois Martin; pianist Sarah Ho; and very special guests, flutist Carol Wincenc and clarinetist Alex Fiterstein. Please join us for a set of variations on your summer with WCM!
Love,
Andy & Carrie
Our Mission
We engage the public of the Catskills and the Upper Delaware region directly by bringing transformative performances of, and discussion around, chamber music to a wide variety of venues across the region. With events each season in a converted barn (our main concert home); a distillery; a country inn; a farmer's market; a church lawn; a repurposed school; and an old mill-turned-gallery, we bring our work straight to the people wherever they are.  Our commitment to what we see as an essential mix of standard repertoire, new music, encounters with living composers, and improvisation, ensures that our audiences come to see chamber music as a vital, contemporary, evolving art form, one that speaks directly to them, of their lives and their shared humanity.
...breathtaking elan and finess -Times Herald Record
GENERAL INFORMATION
Weekend of Chamber Music, Inc.
PO Box 147
Jeffersonville NY. 12748
(917)-664-5185
Copyright © 2017 Weekend of Chamber Music, Inc. - Site designed by Bōwman Media